WHO WE ARE
We are a welcoming family of thankful and imperfect people who share a passion for God, a passion for others, and a passion for graciously sharing the good news of Jesus Christ.  We enjoy an informal environment and Christ-exalting modern worship, and we are committed to following the absolute truth found in God's Word.  
We believe that the totality of the story of God in all of Scripture centers on the good news that God has provided a way for us to enter into relationship with Him.  As we seek to fulfill our ultimate purpose of glorifying God and work to carry out the specific purposes that He has commissioned for us to accomplish as the local church, we center all our hope and effort in the grace of God and the Gospel of Jesus Christ.   And we are fully committed to following and aligning all our priorities with the directives given to us by our Lord and Savior Jesus Christ in the Great Commission (Matthew 28:19-20) and the Great Commandment (Matthew 22:36-39).   
OUR BEGINNING
River Oak Church began in the hearts of the members of South Norfolk Baptist Church in the early 1990s. The members saw the need for a new church in the Oak Grove area of Chesapeake and began a search to purchase land for a new mission church. In 1998, South Norfolk Baptist negotiated and subsequently purchased 11.5 acres of prime real estate on Great Bridge Boulevard. It was clear that South Norfolk Baptist was committed to planting River Oak Church.
River Oak held its first worship service on January 23, 1999, at Oscar F. Smith High School under the leadership of Pastor Dennis Culbreth. The church began meeting on Sunday mornings a few months later. Constituted on November 26, 2000, River Oak met either at Oscar Smith or Hickory High School until December 2, 2007, when the church entered its own facility on Great Bridge Boulevard. In March 2008, the church called Heath Burris as Senior Pastor. Construction on Phase II of our building plan was completed in late 2009, and our new children's wing (Phase III) was completed in late 2013. We are excited to see what the Lord has in store for us next and invite you to grow with us!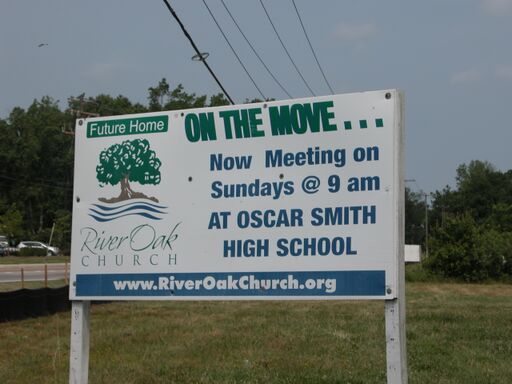 1990

Members of South Norfolk Baptist Church seek God's direction for a church plant

1998

Property purchased well below value with promise that a church be built

1999

First Service begins at Oscar Smith High School

2006

Ground breaking for first building on property

2007

First worship service held in new building

2008

Ground breaking for campus expansion for offices and classrooms

2009

Campus expansion for offices and classrooms complete

2013

God made it clear a permanent worship center is to be put on hold until a space is built for our growing Children's ministry.

2013

2018

River Oak prepares to go All IN to expand our campus!

2019

Construction is in progress on our new worship center!

2021

Gatherings began in our new worship center!
ALL IN

is more than just a building—
ALL IN

is about

reaching people

.